Amateur Radio News... (cont.)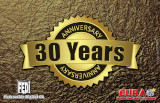 Federación Digital EA (FEDI-EA) celebrated thirty years since its founding (1992-2022) last July, specifically on the 25th. For that occasion, the special callsign AM30FEDIEA was on air from 15 July to 15 August, used in multi-club mode through its usual booking system.
In addition, the PTT also authorized all Spanish licence holders (who wish) to use, on the same dates, their callsign as special in the following format:
On November 6, from 08:00 to 12:00 UTC, it will be held the next edition of the "sprint contest" version of the same name Award, devoted to the "Radio Clubs of the World".
In just four hours you can win original and funny prizes that you can share with your mate or friends: hotels, restaurants, wellness or adventures.
Moreover, you will have the opportunity to contact those radio clubs you still needed to complete the EANET Award.