Amateur Radio News... (cont.)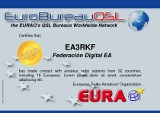 In April, EURAO Award achieved the recognition of the Spanish Ministry of Energy, Tourism and Digital Agenda, as a means of accrediting international amateur radio experience and in this way allowing its holders the access to callsigns with 2 letters in the suffix, a kind of vanity call.
This official recognition also implies that EURAO is taken into account by Public Administrations also at national level.
Do not miss the opportunity to get your EURAO Award.