Amateur Radio News...
On May 5th, 2017, the Club Scientifique et Radioamateur d'Artois-Lys, F4KIS, member of URC, made possible the contact between students of several schools in France, using the callsign TM10ISS, and the French astronaut Thomas Pesquet, on board of OR4ISS.
The contact with the International Space Station lasted only 6 minutes, but it was enough for a great experience.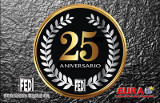 Federación Digital EA (FEDI-EA) celebrates twenty-five years since its founding (1992-2017) this July, specifically on the 25th. For this occasion, the special callsign AM25FEDIEA will be on air from 1 to 31 July, to be used in multi-club mode through its usual booking system.
In addition, the PTT also has authorized all Spanish licence holders (who wish) to use, on the same dates, their callsign as special in the following format: