Amateur Radio News... (cont.)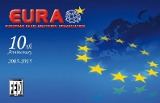 These special callsigns have been celebrating this year the 10th anniversary of EURAO (2005-2015), activated by our member associations in: Romania, ARR; Belgium, VRA; and Spain, FEDI-EA; respectively.
In the latter case, moreover, all Spanish hams have been authorized by their PTT to use commemorative special callsigns for one month. A good recognition for EURAO.
The QSLs of this event will be sent via the EuroBureauQSL.