Amateur Radio News... (cont.)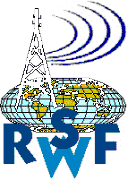 RSF-RWF is an NGO created in 1995 by radio amateur volunteers aware of the importance of radiocommunications in any solidarity project involving groups of geographically distant partners.
It all started in the Great Lakes crisis, when some of them were working in Rwanda and Zaire for several NGOs on different projects.
Since then, more than sixty projects were carried out in a dozen of countries, mainly in Africa and South America.
Most of these projects improve communications in such a way that residents receive adequate health care on time, saving many lives.
RSF-RWF is member of FEDI-EA, which itself is member of EURAO. Visit its website to learn how you can help and participate in the projects of this great radio amateur NGO.