Amateur Radio News...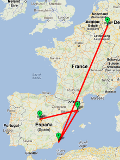 The Emergency Communications National Exercise (ENCE) is an Spanish activity held together by radio amateurs and CB and PMR users in order to practice useful skills for this kind of situations.
This was the forth edition, the first one nightly, and the goal was to exchange messages reliably among participants.
One of these messages toured more than 2.654 Km in less than half an hour, coming from Cologne (Germany) in 20m and passing through Murcia, Barcelona and Madrid in 80m, reaching some towns in the surroundings of the capital connected by CB and 2m.
CQ ENCE is organized by Federación Digital EA and Liga Española de Asociaciones CB y Radioaficionados.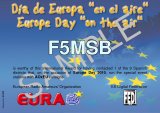 The Europe Day On The Air (EUDOTA) is a global activity to commemorate the creation of the EU and also the European Radio Amateurs' Organization (EURAO).
That day you could find on the bands several special event stations (ie: AO1EU, AO2EU, AO3EU, AO4EU, AO5EU, AO6EU, AO7EU, AO8EU and AO9EU). Contacting with 3 of them you can download the basic Award. With 5, 7 or 9 QSOs you will get bronze, silver or gold Award.
Also QSL cards are available via EuroBureauQSL.